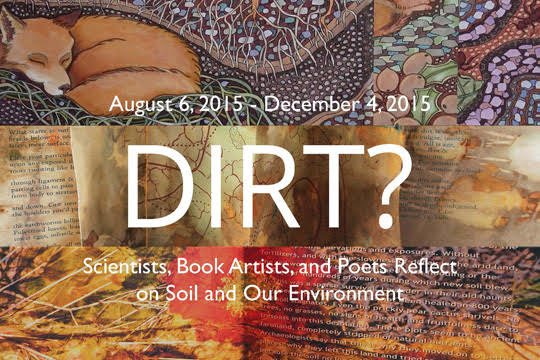 I'm so honored to be part of this show! Here are the details:
In Honor of the 2015 United Nations Year of Soils
An interdisciplinary exhibition featuring natural history specimens, artist books and poems selected from an international call for entries.
Exhibition Dates:
August 6, 2015 to December 4, 2015
Collins Library, the University of Puget Sound
Opening Reception:
September 10, 2015, 5:30 – 7:00 p.m.
Collins Library, the University of Puget Sound
On-Line Catalog:  www.pugetsound.edu/dirt
Events Calendar
Exhibition Opening –

September 10, 2015 from 5:30 – 8:00 p.m.


Reception will be held from

5:30 – 7:00 p.m.

Light refreshments will be served. Curator Lucia Harrison will then give a lecture entitled "Intersections:  How Artists and Scientists Can Collaborate to Create Environmental Awareness" from

7:00 – 8:00 p.m.

Art/Science Salon –

September 17, 2015 from 4:30 – 8:30 p.m.


Tour the exhibit and attend a talk by Lucia Harrison (Visual Arts) and Abir Biswas (Geology) from The Evergreen State College.
Educator and Student Night –

September 24, 2015 from 4:00 – 7:00 p.m.


Learn about "Staying Healthy with Polluted Soils" with Walt Burdsall from the Tacoma Smelter Plume Project and "Combining Art, Literature and Science in the Classroom" with Lucia Harrison.
Earth Pigments: Hands-On Activity & Family Reading Hour –

October 3, 2015 from 10:00 a.m. – 2:00 p.m


Make acrylic, egg tempera, and watercolor with soil pigments with Curator Lucia Harrison and join members of Puget Sound Greek Life for stories about soil.
Dirt? Poets Reflect on Soils and the Environment –

October 15, 2015 from 6:30 – 8:00 p.m.


A Poetry Reading with Regional Poets featured in the Dirt? Exhibition. A celebration in conjunction with Tacoma Arts Month.
All events are open to the public and will take place in Collins Library, University of Puget Sound.
Here are 2 views of my piece, Secret Sides of Soil: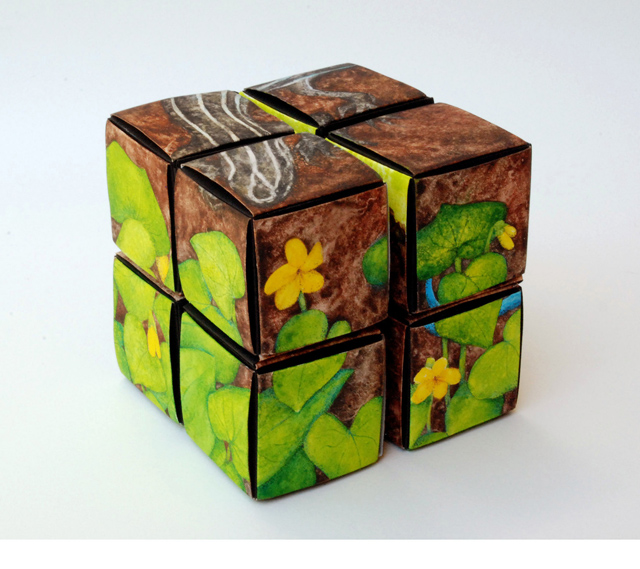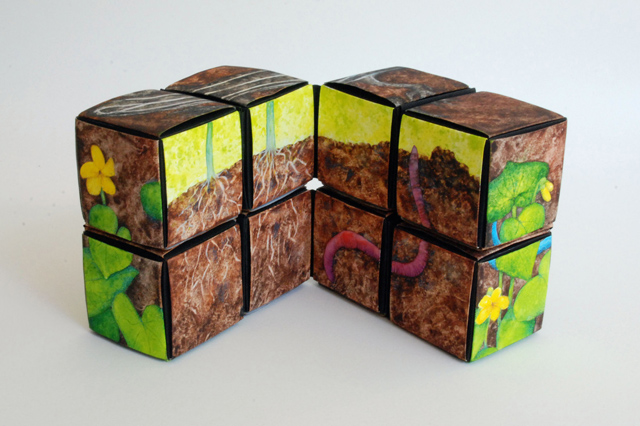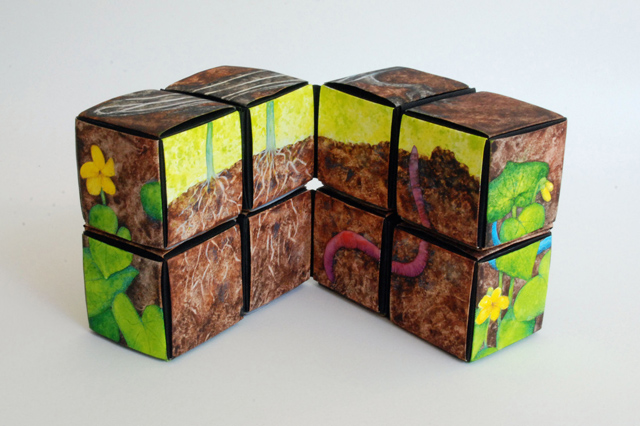 It's an origami flexicube.